4 Common Collision Repairs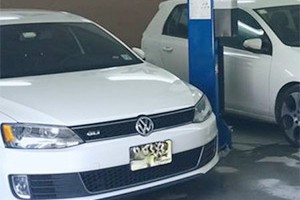 Accidents happen. The road can be full of hazards, whether it be distracted drivers or falling debris. Collision repairs are always in high demand in Philadelphia, and you're likely to need an auto repair at some point during your driving years. If you get into a traffic accident, several types of collision damage are common.
Cracked Windshield
Cracked windshields can result from collisions or falling objects and are a nuisance after the fact. Small cracks may be ignored for a while, but large cracks need immediate attention to prevent the shattering or caving in of the windshield. Small cracks can often be repaired, but large cracks usually require windshield replacements. Because cracked windshields are so common in accidents, comprehensive insurance usually covers the auto repair.
Suspension Damage
Your car's suspension may be impaired by a collision or through contact with a large pothole. Suspension is a key component of your vehicle, absorbing the shock of the rough surfaces of the road as you drive. Depending on your coverage, suspension repairs may or may not qualify in a collision insurance claim.
Dents
Dents occur from fallen tree limbs, car doors, and collisions. Thankfully, they usually don't influence your vehicle's performance. However, they can decrease the value of your car. Without an auto repair, the dents could eventually cause rust to form. Bumper dents are more complicated than dents on the body of vehicles, and they may require a bumper replacement because they involve complex systems within the vehicle, such as airbag deployment, cameras, and lighting systems.
Front-End Damage
Front-end damage on your vehicle can be caused by various events and obstacles: collisions, icy snow banks, parking medians, garage doors, stop signs, and utility poles. Front-end accidents usually affect the vehicle's headlights, bumper, hood, and grills. Damage may be cosmetic or mechanical. Mechanical damage is more severe and should be repaired immediately.
Because of the extensive amount of time you spend driving in Philadelphia, accidents are bound to happen, and when they do, you'll need a trusted auto repair specialist like A&M Auto Body to help you with the collision repair process and get you back on the road.